Seven "draws" every week for casual games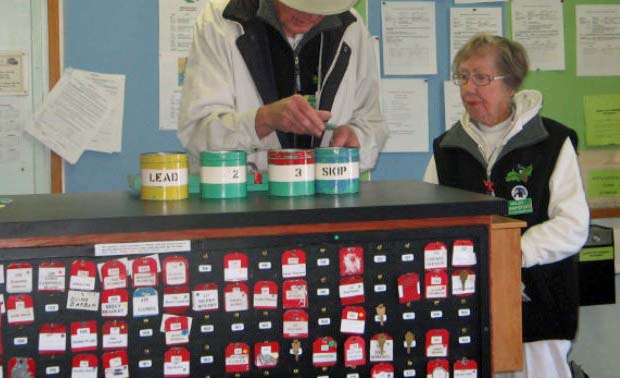 Updated April 10, 2018, creating the 2018 link for the Special Draw on Thursdays and adding a link to the Sunday morning cutthroat tournament.
Each week, from May through September, there are two Morning Draws, two Afternoon Draws, two Evening Draws and the very popular Special Draw. The Sunday morning cutthroat tournament, introduced in 2017, has also proved very popular. It is the only occasion where you have to sign up for a draw.
A drawmaster is in attendance to organize these draws. There also three Drop-in games each week, organized by the players who attend.
The Morning Draw and Afternoon Draw are usually 14-end triples games that last about two hours. In the evenings, the games tend to be shorter — 10 or 12 ends. All these draws are casual games that are organized to suit however many players show up wanting a game.
Playing in the daytime and evening draws is the best way for new club members to introduce themselves to the game and to the club. Other players will give you any guidance you need and you are likely to meet a few more of the club members with each game you play.
You need to be present by "Tags-in Time" in order to play. Just sign up by giving your club name tag to the drawmaster.
Table of Daily Tags-in Times
Mon
Tue
Wed
Thu
Fri
Sat
Sun
Daytime
1:15 p.m.
—-
10:00 a.m.
10:45 a.m.
Special Draw
—-
1:15 p.m.
10:00 a.m.
Cutthroat
Evening
—-
—-
6:15 p.m.
—-
6:15 p.m.
—-
—-
On Tuesdays and Fridays, when there is no Daily Draw organized by a drawmaster, players can organize their own drop-in games at 1:15 p.m. This arrangement has recently been extended to a Sunday afternoon game as well, as per the table below.
Table of Daily Drop-in Times
| | | | | | | | |
| --- | --- | --- | --- | --- | --- | --- | --- |
| | Mon | Tue | Wed | Thu | Fri | Sat | Sun |
| Daytime | —- | 1:15 p.m. | —- | —- | 1:15 p.m. | —- | 1:15 p.m. |
| Evening | —- | —- | —- | —- | —- | —- | —- |
Club members can organize their own games at any time but, as a matter of club etiquette, you should join the club draw if you plan to play within half an hour of the draw time.
Consult the Daily Draw Calendar for season start- and end-dates, and any variations in the Daily Draw schedule. Note that, in 2018, the short mat daily draws (pale green on the calendar) overlap with the outdoor daily draws (dark blue).
Click/tap on the headings below to open up the details of the various types of draw.