Enrolling for Short Mat League Games
Updated 2018-10-18 with revised notice of a shortened Fall 2018 session. Links in the text below refer to the Winter 2018 session and will be updated in due course.
Notice about the Fall 2018 and Winter 2019 short mat sessions.
Full short mat sessions will not re-commence until the January-April 2019 winter session, because of the Anderson House renovations.
We hope to have a shortened Fall 2018 session commencing around the end of November.
Details will be published sometime in October.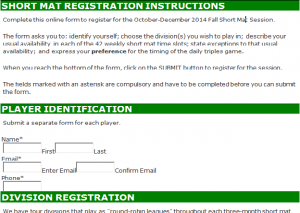 Enrollment for league play in the 2018 Winter Session will commence November 1, 2017 and complete December 10.
If you intend to play in one or more of the A, B, C or D leagues for a fall or winter short mat session, you need to complete the Short Mat League Entry form, which you can then submit online. You no longer need to complete an entry form if you only wish to play in the casual triples games.
The Short Mat Entry form describes your availability throughout the session. We use this form to schedule your league games and to let others know when you may be available as a substitute in a triples game.
You will need to complete the entry form well in advance of the season's start date to play in a league (A, B, C or D league). Scheduling 40-50 players with completely different schedules is a complex process that takes time. Deadline for entry into the 2018 Winter Session is December 10, 2017.
If, for any reason, you are unable or unwilling to use the online form, you can ask another member to complete it for you, or call Chris Slade 250-592-7533 and he will complete the form for you over the phone. (Having an online form as input to the computer program makes the scheduling task easier than using a paper form, which would then have to be manually entered into the computer scheduling program.)
You can check to see if you are properly registered by checking the current List of League Entrants.
Players who are familiar with the scheduling process can use the quick links on the Short Mat Online page to enroll for the upcoming session and to schedule and re-schedule their games. All the necessary links to reserve a place in a Daily Draw also appear on the Short Mat Online page.