We have two greens and two clubhouses
Updated May 31, 2018 adding a section on Instruction for Electrical and Water Emergencies to the Emergency Services document.
Our club provides two high-calibre greens for outdoor bowling during the summer and two indoor short mat rinks for indoor winter bowling. We also have clubhouse amenities that cater for a full and varied program of activities and social functions in the winter.
Our two greens accommodate large tournaments
Anderson House is our sports pavilion
CarnarvonHouse is our sports pavilion
Premises security is everyone's responsibility
Our two greens accommodate large tournaments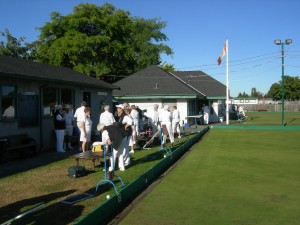 Our two 120-foot square, 8-rink greens—one is floodlit—make our club a suitable venue for the larger local tournaments and for late evening games. Up to 128 players can play simultaneously.
Our greens are maintained under contract with Mr. John Correia. Housekeeping is also contracted out. Everything else about the club premises and grounds is maintained by volunteers from the club.
You can find more information on how lawn bowling operates at our club in Daily Draws, Leagues and Tournaments.
Anderson House is our sports pavilion

We have two clubhouses. The smaller and older one is known as Anderson House. It acts as our "sports pavilion."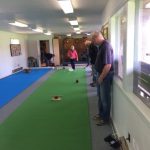 This clubhouse is lined with 240 lockers that are used by members to store their bowling gear.
In the winter season, we play the short mat indoor game in Anderson House. We use two 40-foot carpeted rinks which are in place from late September to mid-April. Six two-hour time slots are scheduled each day on each rink for one of our four leagues or the daily friendly triples games.
You can find more information on how our short mat game operates in Short Mat at Oak Bay.
Carnarvon House is our social pavilion

The newer Carnarvon House is our "social pavilion" with full kitchen facilities and a licensed bar. It can hold events for up to 200 people. This is where we host dinners and other non-bowling activities.
Carnarvon House has a large screen projection TV and its own Wi-Fi hub. We are a "well-connected" club!
Every day in winter there are two-hour sessions for bridge, canasta, darts, table tennis, cribbage or scrabble.
Carnarvon House is available for private rental to club members.
You can find more information about Carnarvon House activities on the Winter Activities and Social Events pages.
Premises security is everyone's responsibility
The security of our premises and property is the responsibility of every member.
If you notice anything unusual that could jeopardize security, please rectify or report the matter. Call the police, if appropriate, and report the incident to any member of the Executive Committee.
The last person to leave the premises is responsible for ensuring that lights, water taps and exhaust fans in the buildings are turned off; that all equipment, both on the greens and surrounds, is put away; and that all doors in the two clubhouses and the equipment shed are locked.
Emergency equipment
First aid kits and fire extinguishers are placed throughout the club premises as shown in this Emergency Services document.This document also gives Instructions for Water and Electrical Emergencies.
All club members should read this document and walk around Anderson House and Carnarvon House to satisfy themselves they can quickly locate the emergency equipment and all electrical and water shutoffs.