Volunteering is vital to the success of our club
Updated July 7, 2017 with illustrations for most of the Volunteering categories.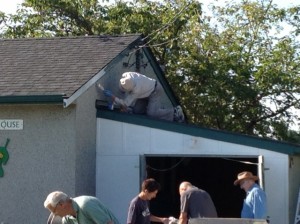 Volunteer club members carry out all the day-to-day maintenance and operation of our club, with the exception of maintaining the greens themselves, which is contracted out to Mr. John Correia.
Members of the Executive have to put in a good many hours in club administration, but most of the volunteering duties are not arduous, and there is a lot of camaraderie among the members of each team.
Volunteering at our club is often an enjoyable, social activity — as well as actual work.
We are always looking for members to help in the various activities. To see what is involved in each kind of volunteering, click/tap on the headings below: