Open to the public for bowling every Friday evening all summer long!
Updated 2018-08-11 with notice that there is no Visitors Night bowling August 17.
Visitors bowling starts Friday May 11, 2018 and continues until September 21
(EXCEPT AUGUST 17, when a provincial-level tournament is being held at the club.)
Your invitation to bowl with us. . .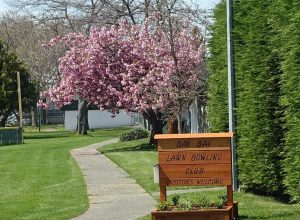 Free bowling every Friday evening from May through September.
Bring your family and friends (over the age of 12) and experience the wonderful game of lawn bowling. As long as your hands are big enough to hold the bowls, you are all set to enjoy an evening of fun.
Please wear flat-soled shoes to protect our greens.
See you at 6:00 p.m. for an orientation; start bowling at 6:30 p.m.
Here's our location.